First things first: WE HAVE SNOW!!!! Happy dance.
Ok.
Over the past two + years I've been making these little improv trees with samples of Improv Under the Influence piecing from my workshops. After demonstrating the technique to students using these beautiful Oakshott fabrics (leftover from my Chess on the Steps quilt), I would then piece sections into little trees with an Essex linen background. It was a great way to show people alternate ideas for the piecing. I'd been contemplating a modern table runner, but settled on pillows instead. I finally pieced the tops together at one of my recent day retreats.
The compositions needed a little something, so I added the tiny wonky stars, which are so much fun to make. Both pillows are totally reversible, each with a strip of improv piecing on the back. I tackled invisible zips for the first time after finally finding my special invisible zipper foot (if any of you have a newer Pfaff, you'll know that this clear plexiglass foot is itself pretty invisible in whatever container you store it in!). I typically bind my pillows, but I think I'm a convert now. It was super easy! There are plenty of tutorials online, but I like Katie's succinct one
here
.
The pillow tops and backs were squared to 20" and backed with fusible fleece (no fabric backing or lining in these pillows). I quilted the fronts with straight vertical lines about 1/4" inch apart using coordinating 40 wt. Aurifil thread in green and red. The backings are quilted with lines 1" apart in the Essex and 1/4" apart in the improv strips.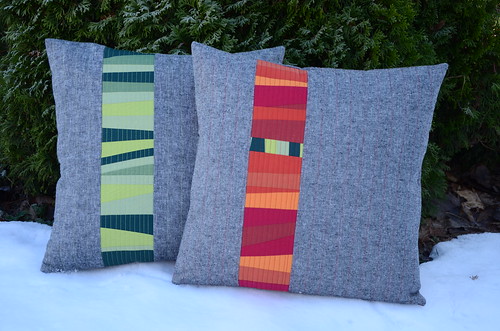 (I've just gotta say, taking photos in winter here is so hard. It's either light-sucking grey overcast or brilliant sunshine and shadows!)
Most of my handmade Christmas decorations in the living room are 12 or more years old and tend towards folksy designs that were popular in the shop I was working in at that time. I'm loving this modern update, although the pillows are bit incongruous with our 100 year old cottage!
I hope you are enjoying your holiday gift-making, decorating and baking. I've seriously cut back on baking the last couple of years and I must say, it is incredibly liberating. I'd much rather sew gifts. I think I have the only family that left cookie exchange bounty untouched on the kitchen counter for weeks! My mom kindly sends our Christmas dessert of plum pudding, so I'm even off the hook for that.
If I don't make it back here before the 25th, Merry Christmas and happy holidays to all of you! Thanks for another year of hanging out with me here at Poppyprint. xoxoxox