If you've never had the pleasure of reading
Homespun Magazine
from Australia, I hope perhaps my latest quilt pattern will encourage you to order a copy! This has always been one of my fav sewing publications due to the varied projects (quilting, embroidery, sewing, collaging), gorgeous photography, matte paper, designer biographies and glimpses of quilting life DownUnder. I wish it were easier to find in Canada. If you search online there are a few retailers in North America from which you can order copies.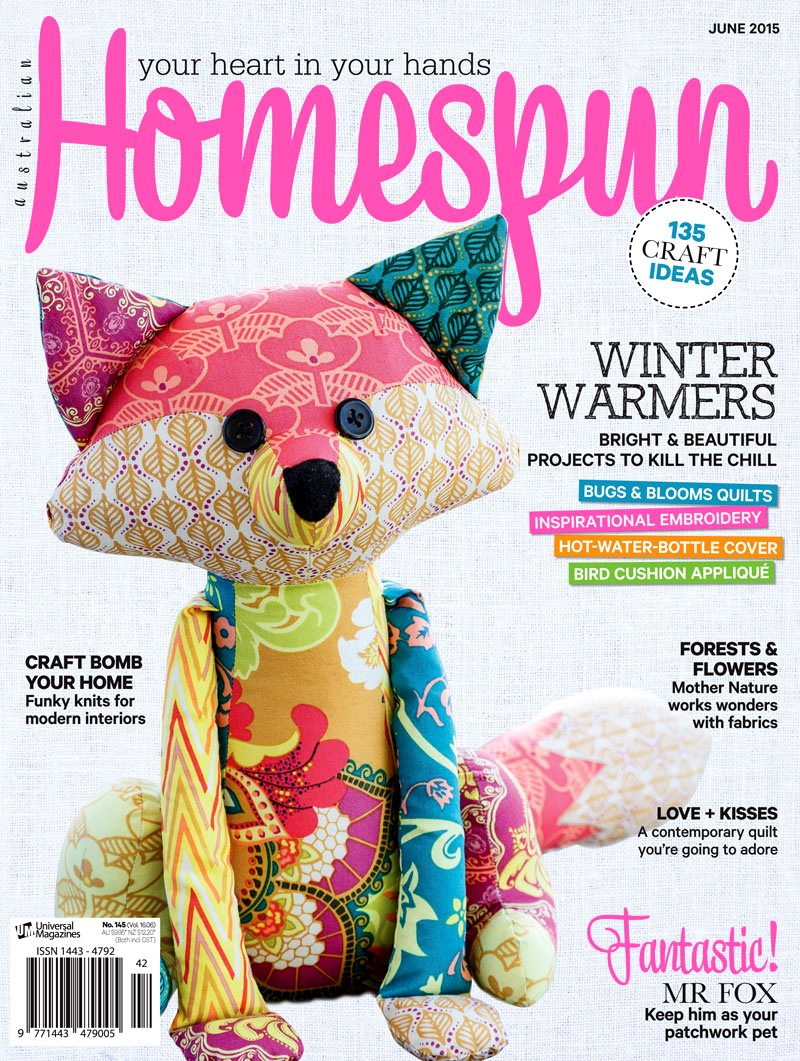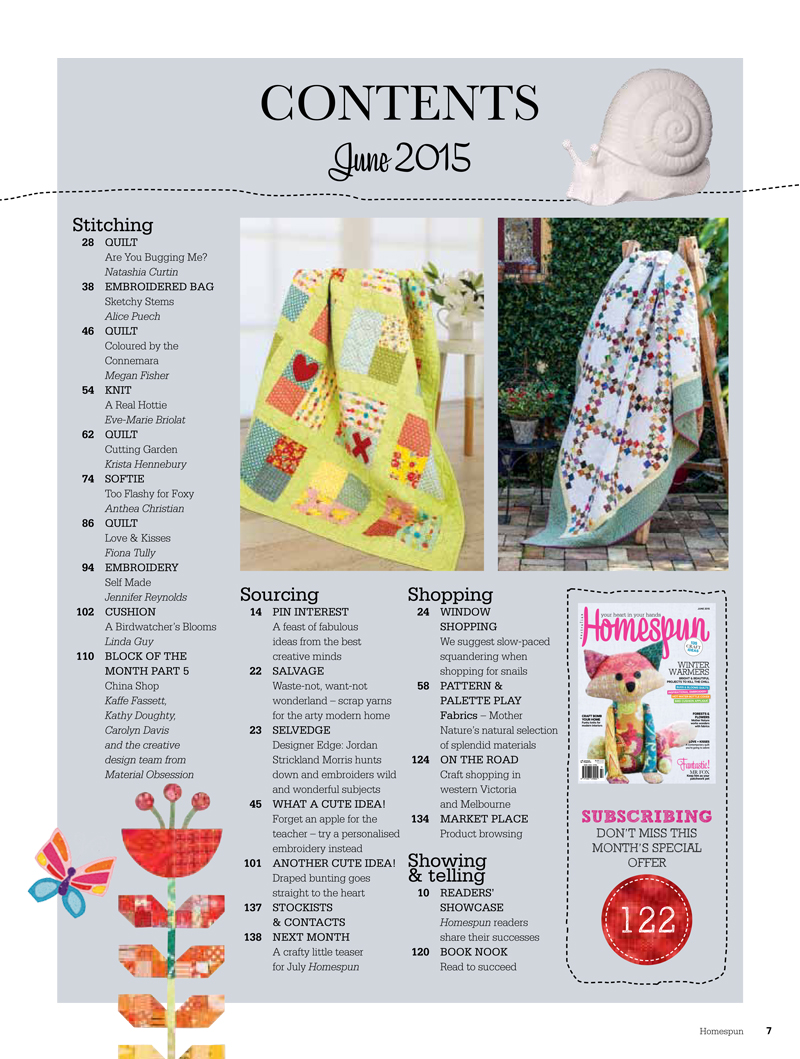 Here's the adorable cover and a little detail of my quilt on the contents page!
The story of Cutting Garden is kind of a long one. You may recall that last year I worked with many neighbourhood friends (as well as others from my local quilting community) to make a
Scrappy Sprouts
quilt for our friend who was diagnosed with cancer. The quilt we made was inspired by
a quilt my friend Tracey made
with sewing buddies the year before for
her
friend with cancer. We both feel that the block is sweet and hopeful and I know that both quilts brought so much joy to their recipients.
The location photos in the magazine are just stunning and make me so proud to have a project included!
Well, the editors at Homespun saw a photo of my quilt online and approached me to create a similar one, but they wanted a design with more flowers and a darker "ground". I first asked Tracey if she wanted the gig, after all, it all started with her block design and quilt. The timing wasn't right for her, but she graciously allowed me to go ahead with a quilt using a smaller version of her block. Because of Tracey's generosity and the origins of this quilt, I've donated my modest design commission to cancer research - that just felt right.
The scale of a dresden plate flower didn't work with these smaller sprout blocks, so I designed some folk-art inspired flowers that are made up of two pieced quarter circles, some bias tape applique stems and machine appliqued circles. I love how they look on top of those pretty rainbow sprout stalks. It is really difficult to showcase the scrappy low-volume background fabrics in photographs, but trust me, there are tons of prints in there!
One of my fav things about the quilt are the two Heather Ross bumble bees on the flowers (Briar Rose fabric line).
This quilt is a fabulous scrap-buster. There is a lot of piecing, so it takes a while, but the results are so pretty. I cut the squares from pressed scraps using my
Accuquilt GO!Baby
cutter, which saved lots of time. I have a little stash of leftover HST's, squares and stems that I saved for one lucky follower along with a copy of the magazine if you'd like to make this quilt yourself.
Please leave one comment below for a chance to win. Your email MUST be linked to your comment, or appear in the comment itself, in order for you to win. I'll choose a random winner next week on my birthday: July 22nd. Good luck everyone!

ETA: comments are now closed. Congratulations to comment #74 chosen by the random number generator! The Rx Quilter, you've won!! I'll email you for details on how to get your prize to you.